It feels vulnerable to be seen, as you are. But what are you, to the ones doing the seeing?
We perceive each other through our own narratives, so the seer is actually the one deciding what we are. In that case, are we ever, truly seen?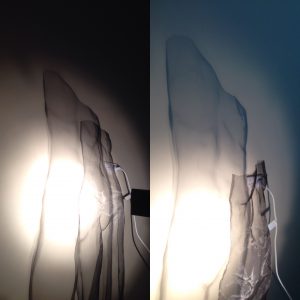 This interactive sculpture is a visualisation of the process of "seeing what we want to see". The sculpture stands bare, naked, and anonymous (headless) while a beam of light guided by the observer casts it's shadow behind it.
Depending on the angle, direction, and proximity of the light, the shadow is a completely different expression of the object. From one angle it looks like a nude sketch, from another a sensuous woman, and from another an androgynous human-like figure. The observer picks their favourite angle, and looks through the actual sculpture to enjoy the image they, themselves, created.
This sculpture was recently shown at VERSE a RAWartists Showcase on the Gold Coast.
This is an interactive sculpture from a series of installations called "the Perception Project". The aim of the project is to visualise various forms of human perception in different environments. Each piece is created by the community who engages with it while it's installed – the engagement can include attaching things to a form or just moving a light to create a shadow – and I am curious to see how the location of the installation impacts the community's engagement or responses.